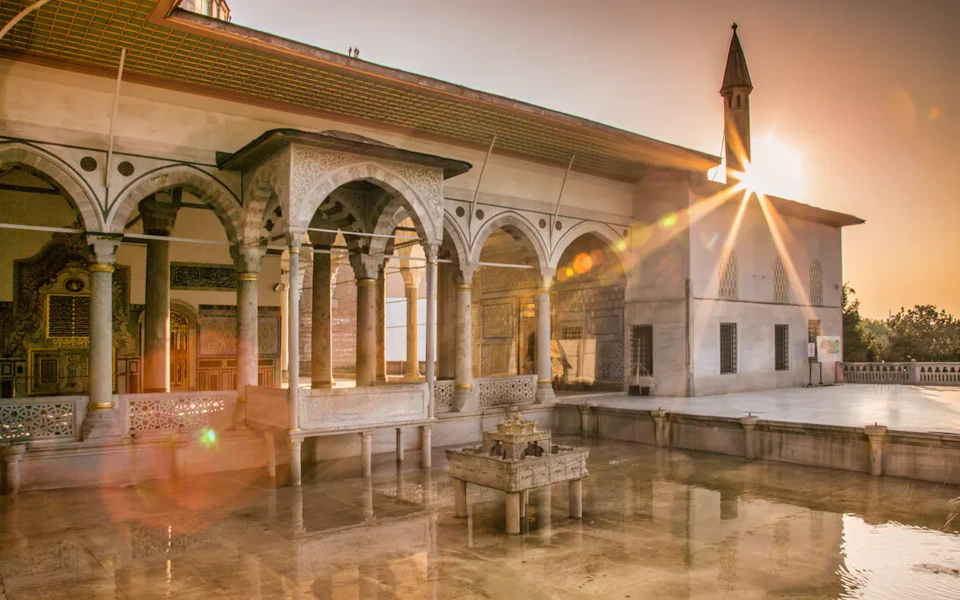 Visit Topkapi Palace | Timings, Location, Tips, Nearby & More
Visiting Topkapi Palace
Topkapi Palace is one of the oldest and most significant historical landmarks in Istanbul, Turkey, where the Ottoman Sultans lived for almost 400 years. Visit Topkapi Palace to explore the lavish sections of the palace, see ancient artifacts from the Sultanate era, and learn about the culture and history of the place. 
To make the best of your time here, you will need to keep certain things in mind while planning your visit. Here's everything you need to know about visiting Topkapi Palace in Istanbul.
Visitor Information at a Glance

What are Topkapi Palace opening hours?
Topkapi Palace is open throughout the year from Wednesday to Monday between 9 AM to 6 PM; the final entry is at 5 PM.
Where is Topkapi Palace located?
Topkapi Palace is located in Istanbul, Turkey.
Address: Cankurtaran, 34122 Fatih/İstanbul, Turkey.
How many visitors does Topkapi Palace get in a year?
Topkapi Palace hosts around three million visitors every year from all around the globe.
Topkapi Palace Opening Hours
Wednesday to Monday: 9 AM to 6 PM
Last entry at 5 PM
Closed on Tuesdays
Best Time to Visit Topkapi Palace

Weekdays vs Weekends
Visiting the Topkapi Palace on a Monday morning is a good idea as there aren't many people around during the early morning hours. Wednesdays and Fridays are usually extremely crowded. Over the weekends and holidays, the palace usually has long queues with an average wait time of 40 minutes. 

Peak Season vs Off-Season
The best seasons to visit Topkapi Palace would be from March to the beginning of May and from September to November. These are shoulder-season months when the weather is relatively pleasant and the accommodation is also affordable. From late May to June, the weather is extremely hot with skyrocketing room rates in Istanbul. 
Topkapi Palace Location
Address: Topkapi Palace, Cankurtaran, 34122 Fatih/İstanbul, Turkey. Find on Maps
We recommend that you take the tram to Topkapi Palace. The nearest tram station is at Gülhane istasyonu, which is just a 10-minute walk from the palace. Otherwise, you could also book a taxi that will drop you off right in front of the palace.
You can also board any buses from 28T, 30D, 46Ç, 47E, 99A, BN1 and EM1 to reach there.
Getting to Topkapi Palace

By Bus
The buses 28T, 30D, 46Ç, 47E, 99A, BN1, and EM1 have stops close to Topkapi Palace. The nearest bus stop is Akbıyık, which is a 10-minute walk from the palace. The other closest bus stop is at Sarayburnu, which is a 20-minute walk from the palace. 

By Train
Take any train on the Marmaray (Atakoy - Pendik) line to get to Topkapi Palace. The nearest train station is the Marmaray Sirkeci İstasyonu station, which is 15 minutes away by foot. 

By Tram
This is probably the best way to get to Topkapi Palace. Take the T1 tram and get down at either Gülhane istasyonu or Sultanahmet. Both these tram stations are situated less than 15 minutes away from the palace by foot. 

By Metro
The nearest metro station is at quite a distance from the palace; 30-minutes away on foot. If you're someone who doesn't mind taking a walk to explore the city, then be sure to do some street shopping at the Grand Bazaar on your way. Otherwise, you can head to Laleli - Üniversite tram stop and get down at Gülhane istasyonu.

By Taxi or Car
Taxis in Istanbul run on a meter. A taxi from the airport will take you about 40-45 minutes to reach Topkapi Palace. If you're driving yourself, you may have to park your vehicle in a paid parking service nearby. Sports Car Park and Otopark are both about 10 minutes away on foot. 
How to Skip the Line at Topkapi Palace
Hundreds, and sometimes thousands of visitors visit Topkapi Palace every day. On crowded days, you may have to wait in long queues just to enter the palace. However, there are ways to skip the line and enter the palace.

Book Your Tickets in Advance
Topkapi Palace is one of the most visited museums in Europe and can sometimes get extremely crowded. If you want to avoid long lines, we suggest that you plan and reserve your ticket ahead of time. You can simply purchase skip-the-line tickets, select a date and time that work for you and gain entry without waiting in big crowds.

Opt for a Guided Tour
Consider taking a guided tour if you're interested in seeing the Topkapi Palace but don't want to wait in long lines. A knowledgeable guide will lead you through the venue's highlights, answer any questions you might have, and provide keen insights into its beautiful Ottoman architecture. Although this option is more expensive than simply walking around on your own, it's worth every penny.

Reach Early
Topkapi Palace opens at 9 AM every day. To avoid major crowds, try reaching Topkapi Palace closer to its opening time. Late mornings attract large crowds that only taper down after 3 pm. We suggest that you either come early in the morning or late in the afternoon to avoid bumping into too many people. 
Book Your Topkapi Palace Tickets
Know Before You Visit Topkapi Palace
Covid-19 rules
Dress Code
Accessibility
Facilities
Dining
Stay
Nearby

All visitors to Turkey must wear a face mask when in public places.
Temperature checks will be performed at the entrance, and social distancing will be enforced in visitor pathways, waiting areas, gardens, ticket offices, and more.
Travelers who have been fully vaccinated or recovered from the infection within the last six months can visit Turkey. Please carry government documents certifying your immunity.
All indoor and outdoor spaces are disinfected by the staff every day.
Audio guides are given out in disposable zip-lock bags so visitors won't have to touch them more than necessary.

Visitors will need to wear appropriate clothing that covers their shoulders and knees while visiting Topkapi Palace. 
Shorts, skirts, sleeveless, or strapless clothing is not allowed within the premises of the Sacred Relics department.

Wheelchair Accessibility: The palace is not fully accessible to wheelchairs or strollers. Certain areas are inaccessible due to high elevated pebbles and stairs. However, some areas are still wheelchair accessible. 
Pets: Pets are not allowed within the premises of Topkapi Palace, including service animals.

Audio Guides: Audio Guides are available for you in various languages; English, Arabic, Chinese, German, Italian, Polish, Russian, Spanish, and Turkish. 
Professional Guides: There are also professional guides available for hire in the palace. 
Photography: Photography is forbidden inside the museum. Casual photography is allowed in the other areas of Topkapi Palace.


It's a good idea to stay at a nearby hotel to reach Topkapi Palace before time. Some great hotels near the palace offer top-class hospitality and comfort.
Budget-friendly: Şehir Apart Hotel, The Constantine Hotel, Gülhane Corner Hotel
Mid-Range: Royal Bosphorus Hotel, Hotel Ibrahim Pasha, Armada Hotel, Istanbul
Luxury: AJWA Sultanahmet, Byzantium Comfort Hotel, Ottoman Hotel Park

Hagia Sophia: A mosque that was once a church, Hagia Sophia captures the unique tenets of both religions. Discover the lavish mosaics of Christianity along with the inscriptions and minarets of Islam. 
Blue Mosque: The Blue Mosque is a beautiful monument in the center of the city that shines like a blue diamond at night as the six elegant minarets reflect night light.
Galata Tower: The Galata Tower is one of the oldest and highest towers in Istanbul. This former surveillance tower of the Genoese people gives the visitors a birds' eye view of the city.
Visitor Tips
To avoid long queues, book your Topkapi Palace tickets online beforehand.
Carry official Covid-19 vaccination documents for verification.
Audio guides or personal guides are highly recommended to discover the intricate details of the palace.
Go on a Monday morning to properly experience the palace's beauty; it's less crowded then.
Wear clothes that cover your arms and knees.
Visit during October and April to avoid the summer heat.
Beware of the unofficial guides in the palace. The guides should have an official guide badge on them.
The entrance charge is free for disabled visitors, including one companion.
Frequently Asked Questions on Visiting Topkapi Palace
Q. Where is Topkapi Palace located?
Q. What are Topkapi Palace opening hours?
A. The Topkapi Palace opening hours are 9 AM to 6 PM, Monday to Wednesday. Last entry is at 5 pm.
Q. What is the best time to visit Topkapi Palace?
A. We recommend that you visit early in the mornings during weekdays to avoid large crowds. The weather in Istanbul is also quite pleasant between March and May and September and November.
Q. How long does it take to tour Topkapi Palace?
A. We recommend that you set aside at least 2 hours to explore Topkapi Palace.
Q. What is the best way to get to Topkapi Palace?
A. The best way to get to Topkapi Palace would be by Tram. It stops the closest to the palace (10-minute walk). Otherwise, we suggest that you take a bus or even a taxi to get to the palace. 
Q. Is there a dress code for Topkapi Palace?
A. Yes, visitors will need to wear clothes that cover their shoulders and knees during their visit to Topkapi Palace. 
Q. Is Topkapi Palace wheelchair accessible?
A. Topkapi Palace is partly wheelchair accessible. However, you will not be able to avail any wheelchairs at the palace. You will have to bring your own. 
Q. Can I click pictures at Topkapi Palace?
A. Photography is prohibited in the Topkapi Palace Museum. However, casual or amateur photography is allowed in the other areas of Topkapi Palace. 
Q. Are there audio guides available at Topkapi Palace?
A. Yes, audio guides are available in different languages at Topkapi Palace. 
Q. Are strollers allowed inside Topkapi Palace?
A. No, strollers are not permitted inside the palace.
More Reads

Topkapi Palace History

Getting There

Inside Topkapi Palace